Indo-Japanese joint venture Hero-Honda has launched a new 'women-only' scooter named The Pleasure. Like Neelakantan at Interim Thoughts, AsiaPundit also wonders, does this bike have any features that would appeal to women - the name indicates some possibilities.: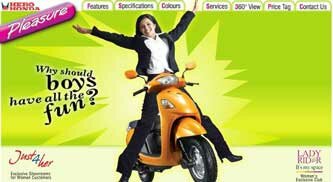 Hero Honda is not really known for innovation as much as sitting on its laurels. With the base of its bread and butter models the stage was set for the company to do something spectacular. Both Bajaj and TVS have done so on their own right, but HH to me, is a fuddy duddy. The launch of Pleasure does nothing to change this perception. Note that I write this without riding Pleasure. Whats the big idea in marketing a scooter to women? Especially when there is nothing "different" about it? The variomatic segment has a solid performer in Activa, stylish Dio, good looking Nova, youthful Scooty and now a women only Pleasure?

I think Pleasure has got its strategy wrong. By saying women (and only women), they are losing a good part of the market. Now, no young college lad will ever buy it (they do buy variomatics, it is not only women who drive variomatics). I am not saying marketing to women is wrong, but I would go the Scooty way with a Preity Zinta, subtle yet leaving the positioning as "youth". Scooty does have some smart features too. Why will a girl buy Pleasure? Whats the compelling feature in it? There are many things that can be designed to appeal to women in a bike like this, but this is just hollow marketing.
Technorati Tags: asia, east asia, japan, india, south asia