AsiaPundit apologies for the past week of inactivity. The lapse was partly due to technical issues, partly due to Asia Blog Award-related administration and partly related to the World Cup.
In regards to the latter excuse, AP is not alone. While there has not been much data on the tournament's economic impact on Asia, from experience he will note that in 2002 trading on several regional securities exchanges was essentially halted (resulting in some very odd movements as a result of low volumes). Truck and Barter alerts us to reports on the costs to the US and US economies.:
In the US;
"The World Cup will likely cost American companies 10 minutes of productivity a day for 21 days, according to the outplacement company of Challenger, Gray & Christmas. That comes to about $121.7 million in lost productivity in the US, a large figure, particularly painful for any company dominated by Englishmen, Germans or Brazilians perhaps."
In UK;
"Based on an average hourly wage of £12.50, the law firm Brabners Chaffe Street calculated that during the tournament, if half of British workers surf the net for an hour a day, it will cost Britain nearly £4 billion in lost time"
In spite of the lost productivity, bosses are generally understanding and there are few sackings. In Indonesia, however, there has been one Cup-related firing and it was deserved.:
A vain attempt by former dictator Suharto's middle daughter Siti 'Titiek' Hediati Hariyadi to improve her super-rich family's bad image by presenting the World Cup soccer tournament on her SCTV television network backfired after she was pulled off the air following a deluge of complaints about her ineptitude.
Titiek, whose company is the majority shareholder of SCTV, was at the helm of a three-member panel of hosts for each night's opening game over the first three days of the World Cup. Her dire lack of knowledge and passion for soccer were painfully obvious as she was seated alongside Indonesian Football Association (PSSI) vice president Dali Taher and former national soccer coach Danurwindo.
Her incompetence was perhaps best demonstrated during the opening game between Germany and Costa Rica, when she erroneously referred to Germany as "Jerman Barat [West Germany]" – apparently forgetting that West and East Germany had reunited back in 1990.
Soccer fans, forced to watch SCTV because it is the exclusive Indonesian broadcaster of this year's World Cup, lambasted Titiek's ignorance, inexperience and awkward performance. They demanded she be replaced by someone more professional.
(Image stolen from Indcoup)
While the Suharto clan isn't making any gains some Indonesian retailers are hoping to capitalize on the event, as are retailers everywhere. Although one French retailer is having trouble in China (again).:
Carrefour has fallen into trouble again with its Fangzhuang Store in Beijing selling fake Adidas footballs promoting the 2006 World Cup.
The ball with the sign of "Teamgeist" and price of RMB59.90 sold in the store has a similar appearance as that of real official ball of the World Cup. An unnamed staff from Carrefour Fangzhuang store quoted in local media says that he has no idea whether the ball has anything to do with the World Cup.
In response to this, Zhu Chenye, a manager from Adidas China, says that the football found in Carrefour is certainly a fake product for they have never produced footballs of that price. According to Adidas, the football used for the World Cup usually costs about RMB900.
For those disappointed that they won't be able to buy fake balls at Carrefour, Malaysia's Kenny Sia has a DIY solution.:
Yes, that's right. For a fraction of the cost of an authentic adidas Teamgeist, I could make my very own official FIFA World Cup 2006 soccer ball. And I'm gonna show you how.
First, you'd need a regular soccer ball. Any one will do. Get a "Made In China" one at your local sports store for a cheap RM40.
Sure, it won't last as long and the specs aren't as good, but the improvements in the Teamgeist ball are minimal in practice you probably won't notice it anyway.
Use spray paint of ICI Dulux, whichever you prefer. Gotta have a white background before you paint the designs on later ya know?
Now comes the difficult part.
You know how the Teamgeist ball features the signature World Cup trophy-inspired 'rounded propellers'? That's important. That's the whole reason why so many wanted the ball in the first place.
But how do you do it?
Easy.
You get a box of Kotex.
In neighboring Singapore, which is unlikely to soon produce a World Cup Team, a scandal is developing based upon the pay scale the city state offers to African imports playing in the S-League.:
A story that has been running here in Singapore concerns the working conditions of a group of footballers from Africa (Kenya, Cameroon and Nigeria). In stark contrast to the wages earned by those competing at the world cup these players moved to play in the Singapore S league. All had signed contracts with the club, promising them $1,600 a month in salaries. But the club also deducted $1,500 of that money for food and accommodation, as the players had signed a separate contract with the club authorising the deductions. It is now reported that the issue has been resolved - after a meeting over the weekend between the Football Association of Singapore, the players and club management, the players have accepted a new deal, which will now increase their monthly take-home salary from S$100 (US$62) to about S$600 (US$375) a month
When AP suggested that Singapore will not soon have a World Cup team that assumption was based solely on economics and demographics. The city state cannot compete with any of the regional behemoths in either population or resources. However, if one sociologist is to believed Singapore may also be at a disadvantage because it is majority Chinese and the Chinese can't play football.:
"A lot of people are pained by the fact that Chinese football did not makes it way to the World Cup. Many people make it a point of patriotism and blame the systems or institutions involved. I feel that Chinese people being bad at football is related to the character of our culture.
Chinese people, especially the Han, are a elegant and scholary people, who were never a proponent of reckless bravey and battle, preferring softer and more elegant methods. Football is not like this, it is an attack-intensive sport, with a violent character. American football is even more violent. These sports are not suited to the character of our culture.
There is lots of evidence for this:
Look at the historically famous men, from 梁山伯 to 贾宝玉. They are all bookish people.
Until a few years ago, the Chinese language did not have the word 性感 (sexy). Chinese people historically did not value ferocious images of men.
The Chinese don't understand aggressive sports or sexiness??? AP is pleased to have some evidence to the contrary… for instance this local Esquire pictorial.: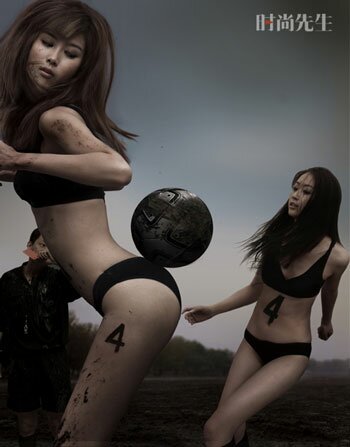 Continuing with China, while AP has never envied local reporters, he does presently wish he was a sports reporter for a local Chinese outlet. It seems that all you have to do is show up to the games and make stuff up.:
Since the beginning of the FIFA World Cup in Germany, something strange is happening in Chinese journalism. Xinhua, CCTV and other official media sent huge teams to Germany, but their news reports are unexciting. Instead, the local or Internet media have scooped some amazing exclusives. For example, when Brazil beat Croatia at 5am on June 14, the Sohu sports page immediately had an exclusive interview with Brazilian star Kaka.
Finally, Xinhua could not stand it anymore and published an article titled "People who are even more awesome (full of shit) than Parreira) to expose the massive fabrications from certain Chinese reporters. The report pointed out that the extent to which Chinese reporters have gone must have astonished even Brazilian trainer Carlos Alberto Parreira.
For example, Franz Beckenbauer must be very busy going from one game to another, but he seems to be interviewed by mainland Chinese media every few days. He does not speak Chinese, but in the Sports Weekly exclusive interview, he can name the individual players on China's national team. Even better yet is the exclusive interview with FIFA chairman Sepp Blatter in Shanghai Youth Daily, in which he came over after the reporter called out his name in a hotel lobby.
The tournament has been relatively free of violence this year, although there has been one unfortunate incident in an unlikely place.:
Thai gunman kills two noisy World Cup fans
BANGKOK, Thailand (AP) — Thai police are searching for a gunman who shot and killed two soccer fans at a beach resort after complaining they were cheering too loud.
The two men, both Thais, were watching Italy's 2-0 win over Ghana at a restaurant Monday at the Thai beach resort town of Pattaya, and erupted in roars when Italy scored its first goal, said Panipha Wattakul, a girlfriend of one of the victims.
A man seated at a nearby table asked them to quiet down, prompting a heated argument during which the man pulled out a handgun and shot the soccer fans at point-blank range, said Police Col. Somnuek Chanket. The victims were identified as Chamlong Rongsaeng, 30, and Somnuek Sonkun, 41.
Also in the Mekong region, Magnoy's notes a Reuters item in which Cambodian strongman Hun Sen warns citizens not to bet the farm… literally.:
PHNOM PENH (Reuters) - Cambodian Prime Minister Hun Sen urged his impoverished people on Thursday not to sell their possessions to place bets on the soccer World Cup, saying it was probably a bad idea. "Go ahead and watch it, but do not sell your cows, motorcycles, cars, homes and land to bet on the games," Hun Sen, a one-eyed former Khmer Rouge soldier, told farmers at a provincial hospital opening.
"Just bet verbally, for fun. Don't sell your cows to bet on games of football," he told the several hundred villagers and foreign diplomats at the ceremony.
World Cup fever has gripped the war-scarred southeast Asian nation, with Cambodians from every walk of life staying up into the small hours of the night to catch their favourite teams in action.
Hun Sen himself confessed to backing Japan — his government's largest donor
AsiaPundit does not have a national team this year — and being Canadian likely never will — but he does have hopes for Korea, Japan, the US and Australia. For those who are also without a national team to root for, Owen offers a tool for making an ethical decision.:
The World Development Movement has a handy tool to help the ethical football supporter decide which team to support.
As I type, Tunisia is beating Saudi Arabia - according to the WDM, this is good news as it means that the 3rd most supportable team is beating the 29th most supportable, on measures such as carbon emmissions, corruption and military spending.
Finally, the Nomad notes with some disbelief a report that the South Korean cheering section has become a tourist attraction.:
Surely it can't be so, but if I read it in a Korean paper, and it has something to do with Korea, then that's the way it is. According to an article in the Korea Times, people from other countries are paying money (I know, unbelievable, ain't it?) to come over here to take part in the outdoor cheering for the South Korean soccer team. Yes, you read that correctly, nothing wrong with your monitor or your eyeglasses.
"South Korea's victory against Togo at the 2006 German World Cup on Tuesday put the country back into the world spotlight again after its achievement in the 2002 Korea-Japan World Cup. The soccer match, however, was not the only thing that caught people's eyes _ what really made people excited was the outdoor cheering in the streets, plazas and other public places filled with people in red shirts, just like during the 2002 World Cup."
While the Nomad is doubtful, AsiaPundit is more inclined to support that thesis. There is something appealing about South Korean fans. Some of them in particular.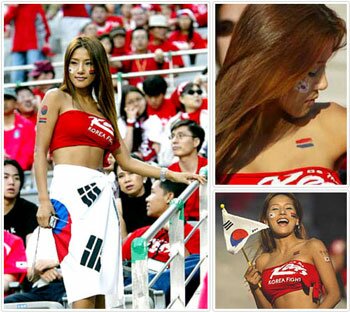 Technorati Tags: asia, china, east asia, indonesia, korea, northeast asia, singapore, south korea, southeast asia, thailand, world cup