AsiaPundit has has a long day and is too tired to write. In lieu of words, AP is pleased to present images.

Via 'We Make Money Not Art,' links to Almond Chu's Wet Wet Kid Cosplay Generation: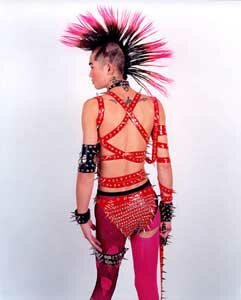 Almond Chu photo exhibition at the Shanghai Street Artspace.
And Keitai Girl: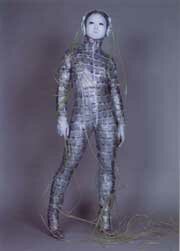 In Keitai Girl (2003), Yamaguchi Noriko wears a body suit crafted from cell phone keypads, large headphones and is draped from head to toe with wires. Certain guests are given the phone number of her body suit and can dial her up from their own cell phones and talk with her during her performances. This suit—a full-body prosthetic that turns her into a walking and talking cellular device—to investigate the future development of the human body and its interaction with technology.
Via 3Yen, a nude Chinese ice skater on Japanese television (usual disclaimer: this is not porn, this is an international incident):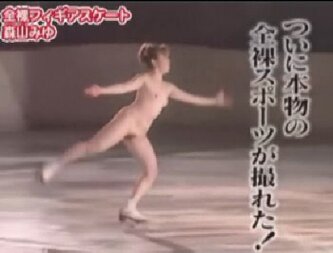 The Torino Olympics have been a total failure for the Japanese teams for far …so the Japanese have broadcast a naked Chinese iceskater to cheer things up.

Right now Japanese broadcasters have given up on promoting the Olympics. Low TV ratings have given the Japanese broadcasters a nasty hangover because the public is angry and bored with the worst Japanese showing in 30 years—Japan has yet to win any Winter Olympic medals.

Watch the video here on furl.com.
Via Indcoup, Dayak Tattoos: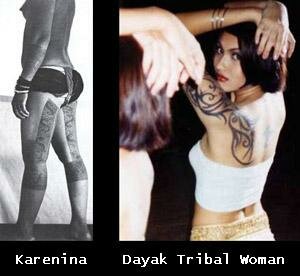 … tattoos and death are inextricably bound in Dayak beliefs. When the soul (beruwa) leaves its human host, it journeys through the murky depths of the afterlife in search of heaven - the land of ancestors. Dayak souls encounter many obstacles on their supernatural flight: The River of Death the most formidable.

According to tradition, only the souls of tattooed women who provided generously for their families and headhunters who possessed hand tattoos - a token of their success - were able to cross the log bridge that spanned these dangerous waters.
Technorati Tags: asia, china, indonesia, japan, northeast asia, southeast asia