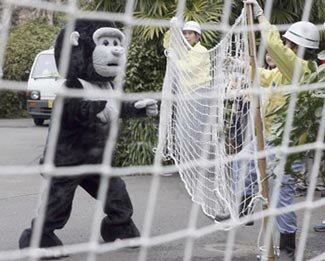 Tokyo's Ueno Zoo held a training exercise this week, the aim being to practice capturing animals that may escape during a major earthquake; an Elephant near the Emperor's Palace or a Giraffe in Ginza probably being the last thing that rescue teams would want to deal with.

Presumably being disorientated and afraid, any roaming beasts would be both dangerous and unpredictable, so this year's exercise was made as authentic as possible – the latest advancements in make-up and synthetic material allowing officials to effortlessly achieve this. A tactic that proved hugely successful, as despite knowing that underneath the ultra-realistic gorilla suit was Suzuki-san from sales, the fear amongst the staff is practically palpable.
It can be assumed that the man in the monkey suit was paid for his trouble. With that, AsiaPundit notes that he would love to dress up as a gorilla and attack tourists and zoo staff. The next time the Ueno Zoo does this, it has a volunteer.
Technorati Tags: asia, east asia, japan, northeast asia