Oh dear, and in a country that ordered the domestic press not to cover riots related to cartoons depicting Mohammad.: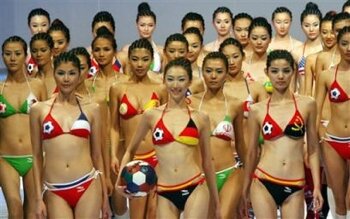 Chinese models wear bikinis with the World Cup soccer designs on during a swimsuit design contest as part of the China Fashion Week in Beijing, China, Saturday, April 1, 2006. A week long fashion extravaganza to showcase local and foreign talents ends Sunday. (AP Photo/Ng Han Guan)
AsiaPundit does not find the above image offensive in the slightest. However, as Glenzo points out, the model to the immediate left of the German-flag wearing model in the center is wearing an Iranian flag. That could cause offense to some of Islam's more puritanical followers.

The CIA World Factbook describes the flag as follows..:
…three equal horizontal bands of green (top), white, and red; the national emblem (a stylized representation of the word Allah in the shape of a tulip, a symbol of martyrdom) in red is centered in the white band; ALLAH AKBAR (God is Great) in white Arabic script is repeated 11 times along the bottom edge of the green band and 11 times along the top edge of the red band.
Technorati Tags: asia, china, east asia, northeast asia