Bingfeng, who has given AsiaPundit the honor of being his star blog of the week, suggests that free speech and anti-censorship advocates who criticize the actions of internet companies in China, "do something more important and constructive.":
As we all know, the blocking of these web sites, in its worst situation, influence the life of a few thousands in china, while at the same time, the corrupt journalists/media taking money from firms and various organizations and writing misleading articles to fool the public is a everyday story in china, as i know, the norm of taking money from firms to make favorable media exposures was cultivated by many MNCs in china, which bribe chinese journalists in the name of "media PR" or "marketing PR" activities, and bribe them when they have a "PR crisis". such collusion affects the lives of millions of people and you could do something to change it, especially a lot of them are related with MNCs in china.

couldn't you do something more important but less satisfying for your moral superiority? i just wonder.
AsiaPundit, who is a journalist by day, was recently offered an envelope containing 500 yuan (a little over 60 usd) while covering a telecommunications event sponsored by European companies. I can't say whether any of the firms knew the cash was being offered, so I won't mention any of them by name. I refused the cash, although the three local reporters who were at the event accepted.

As blogging flack Imagethief wrote earlier this year, it's common practice to offer a "transportation allowance" to journalists. It should be noted that this is done for the local media and not usually for the foreign press. Foreign journalists have different ethical standards and rules that forbid us from accepting bribes (plus, a 200 yuan bribe would be is so low in terms of comparative salary that it could be offensive).

Bingfeng is correct that this is a serious problem for China - a 2003 study by the Institute for Public Relations puts China dead last in a list of 66 countries in a study on the acceptability of bribery for coverage.

Still, by citing the existence of this problem as a criticism of free-speech advocates he is making a common fallacy of argument by evading the issue.

This is also known as the Chewbacca defense.

That last link is from the blocked-in-China Wikipedia. I regret that readers here won't be able to access it without a proxy.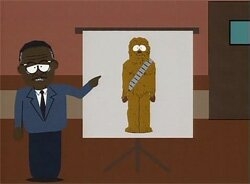 The problems of censorship in and press bribery in China are related issues, both shape the content of news here. But to say that censorship of a website is something that only affects a "few thousand" is a gross understatement. While it may be only a handful of residents who are affected by a block on a single blogspot site, the control of information in China promotes ignorance, retards democratic development and prevents the building of an educated civil society. This affects 1.3 billion.
Technorati Tags: censorship, china, corruption, east asia, northeast asia