Merry Christmas from Mr and Mrs AsiaPundit. There will be reduced posting for the holiday season, but AP is cheered that he can present an assortment of good Christmas news from the region:
Nothing blew up in Indonesia:
Good news from Indonesia tonight. Despite serious warnings of terrorist attacks against Christian churches — and perhaps due to a general heightened vigilance, along with robust security measures that included participation of many Muslim social organisations — the many Christmas Eve services and Masses have taken place without reports of trouble. This is an extremely important good sign for the country. If there was ever an occasion for that old aphorism, "No news is good news," tonight was the night.
(UPDATE: Nothing blew up thanks, in part, to Santa:
Santa isn't just filling stockings in Indonesia. He's also checking
packages for bombs in the world's most populous Muslim nation where
authorities are gearing up to prevent possible militant attacks.

More than two dozen hotel security men dressed like Santa Claus in red
outfits with white trims used metal detectors to inspect cars entering
a five-star hotel in the heart of Jakarta, where malls and hotels are
all dressed up for Christmas.)
From Japan, Santa's ability to deliver gifts to billions is explained - he is assisted by time-travelling cat Doraemon:

China's environmental record is improving. In Shanghai, Christmas decorations will be recycled for use in traditional medicines:

Shanghaiist assumes that this "tree," covered not with the traditional pine needles, but with antlers torn from the still-warm skulls of disobedient reindeer, is a stark reminder: Santa Claus ain't nuthing ta f' wit.
In South Korea, despite Dr Hwang's fall from grace, advances in human cloning do seem to have been made: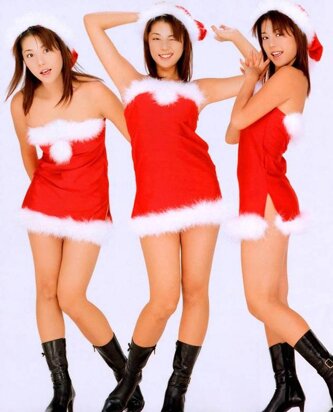 Technorati Tags: asia, china, east asia, japan, korea, northeast asia, indonesia, south korea, southeast asia