Meet the esteemed judges of the 2006-2007 Asia Blog Awards: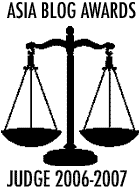 • Anna of HERstory, the 2004 ABA winner of Best Indian Blog.
• Connie Veneracion, Sassy Lawyer and queen of Philippine blog royalty.
• Fred of Extra Extra, former winner of best Sri Lanka blog and now a resident of Kinshasa, Democratic Rep of Congo.
• Graham Holliday of top Vietnam food blog Noodlepie.
• Previous Indonesia ABA winner and inteernational man of mystery Jakartass.
• Japundit founder of the eponymous Japundit.
• Malaysian alpha-blogger and Freedom Blog Award winner Jeff Ooi.
• Jeff Laitila, founder of of ABA-winning Japanese group photo blog Sushicam.
• Lee Chapman of the Tokyo Times.
• Malaysia's multi-talented Kenny Sia.
• Patrix, founder of Desipundit.
• Phil of Flagrant Harbour, founder of the first Asia Blog Awards.
• Rezwan, author of the 3rd World View, Global Voices contributor and founder of Bangladesh blog list.
• Richard of The Peking Duck.
• Robert Koehler, the man behind essential South Korean site the Marmot's Hole.
• Roland Soong of the essential Greater China site East South West North.
• Ron Morris of ABA winning 2Bangkok.com.
• Simon of Simon World, previous host of 2004 Awards and nominee for several international accolades.
• Scott Sommers, 2004 ABA winner for Scott Sommers' Taiwan Weblog.
• Spike of Hongkie Town.
• Tengku Mohd Ali Bustaman, better known as Pok Ku, of Malaysian ABA winner Di Bawah Rang Ikang Kering
Finally, AsiaPundit will also be participating as a judge.
This is a preliminary listing and admittedly heavy on East and Northeast Asia. Other regional judges have been invited and more additions are expected.
Technorati Tags: asia, asia blog awards, east asia, south asia, southeast asia